3 Secret Locations in Fortnite Season 2
David, 11 months ago
0
2 min

read
The launch of Fortnite Season 2 saw a selection of new POIs added to the map, but there are also a bunch of secret spots you may not have noticed.
Pleasant Park
As one of the few locations in Fortnite to survive since the first ever season, we all know Pleasant Park like the back of our hand. However, the value of this popular drop spot has grown even higher in Season 2, with an underground bunker appearing beneath the soccer pitch.
You can access this new area via a couple of the Port-A-Potties found within the park. One is located near the blue modern house in the south east corner. It may be guarded by a Henchman so stay sharp.
Once you are inside you will have a few more Henchmen to deal with. Make sure to keep one alive to scan and open the special crate. There are also a couple of extra chests and floor loot spawns to check.
When you're ready to leave, hop back into the Port-A-Potty or alternatively into one of the dumpsters to exit.
Gas Station
Another bunker can be found below the surface at the Gas Station to the east of Frenzy Farm. This one is very similar to the one in Pleasant Park, but just a bit smaller.
Again, there is more than one way in and out. Firstly, you will need to take out the Henchmen surrounding the Gas Station. After this, you can either use the Port-A-Potty inside the small hut to the west, or the one next to the bus stop to the east.
Once you get down there, you will be greeted by a few more Henchmen. Remember to leave one alive to open the crate, and again there will be another chest and some floor loot.
You can exit via either of the two Port-A-Potties to return back to ground level.
Spawn Island
This one is a bit of a bonus location. My dusty old PS4 barely loads me in quick enough to explore the spawn island, but if you have some time to kill, check this out.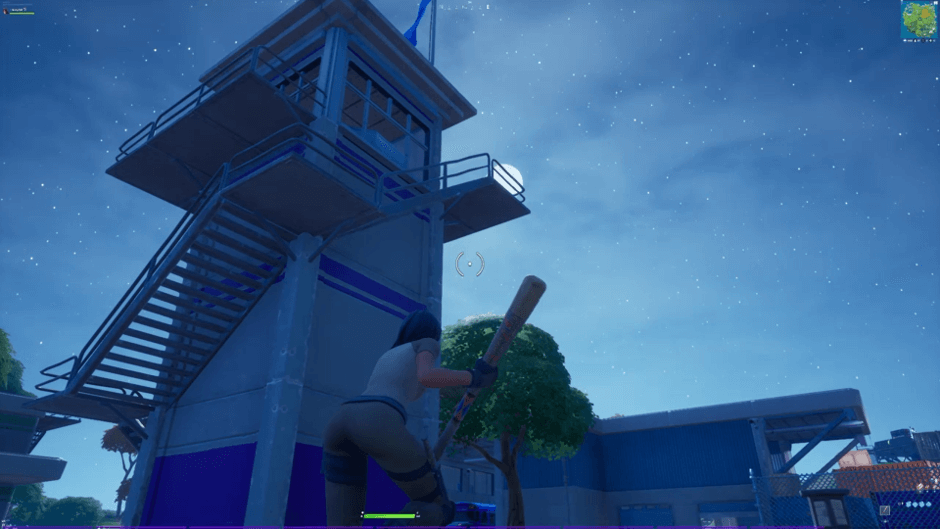 Towards the middle you will see a tower with a blue flag on top. Walk around it until you see the vent on the side. If you pickaxe the vent, you will be able to crawl through and discover another secret passage.
Of course, the weapons you find down here won't be much use once the game starts, but it's still pretty cool to look around.
Related posts