Fortnite Cameo Vs Chic Challenges have players running round to many different locations, and some of the most obtuse spots require catching fish at Lake Canoe and Flopper Pond. In this guide we'll outline the basics of fishing and show you where each of the challenge locations lie.
The Basics of Fishing
If you're invested enough in Fortnite Chapter 2 to have the Battle Pass, chances are you probably know how fishing in Fortnite works. Here's a quick refresher in case you don't remember.
To catch a fish in Fortnite you mostly need a Fishing Rod. These can be found as floor loot or in barrels next to the locations we're about to reveal. If you absolutely can't find one, it's possible to throw projectiles into the water and catch fish that way as well.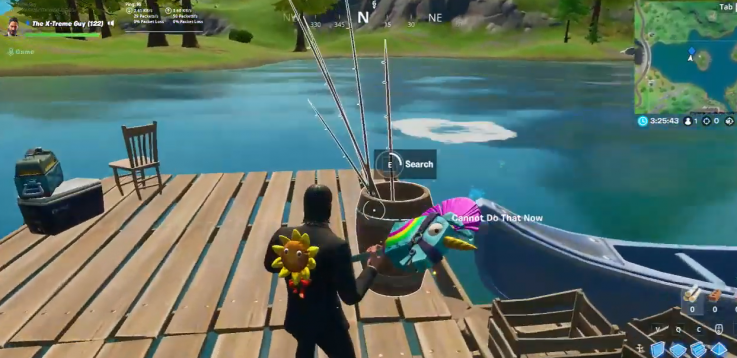 'Fortnite's Cameo Vs Chic challenges require fishing. Fishing Rods can be found in barrels like these. 'Fortnite' is available now on PS4, Xbox One, Switch, PC and mobile.
Epic Games
Once you have a Fishing Rod, pull it out with the trigger, line up your cast toward the foamy white circles in the water and release the trigger. You should find a fish or item in a matter of seconds. It may take a few tries to get just right, but, since you don't have to find a specific variety of fish to get this challenge done, it shouldn't take too long.
Now that you know how to fish, we'll direct you toward Lake Canoe, Lazy Lake and Flopper Pond.
Lake Canoe Location
Lake Canoe is located on this little island north of Retail Row and Lazy Lake.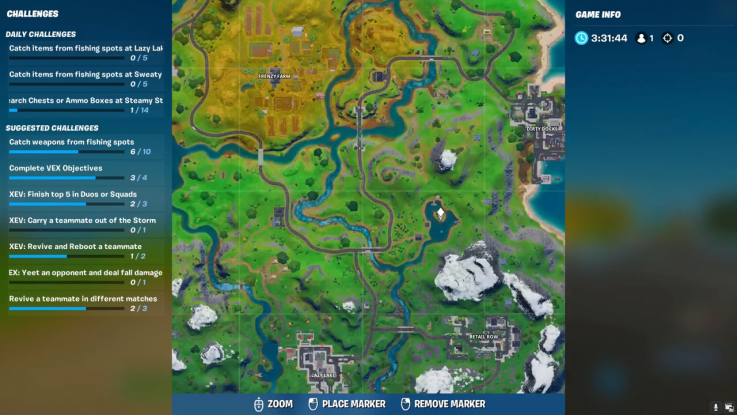 Lake Canoe is north of Retail Row.
Epic Games
This is what it looks like.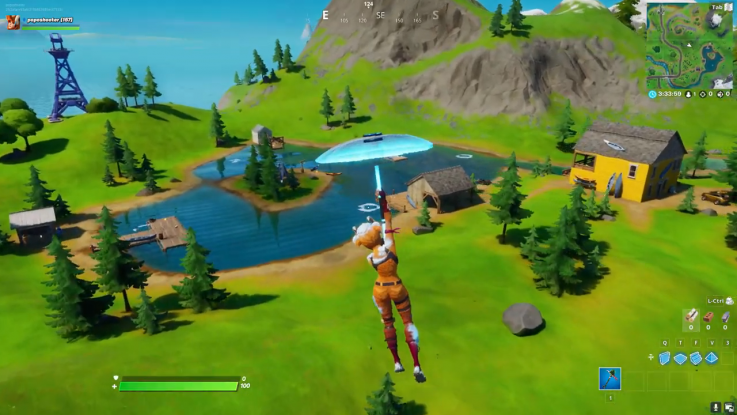 This is what Lake Canoe looks like.
Epic Games
Lazy Lake Location
Most folks know where Lazy Lake is located since it's a named location on the Chapter 2 map, but you can find it west of Retail Row. To catch fish there, just head to this little inlet near the waterfall. A dock and Fishing Rod barrel should be nearby.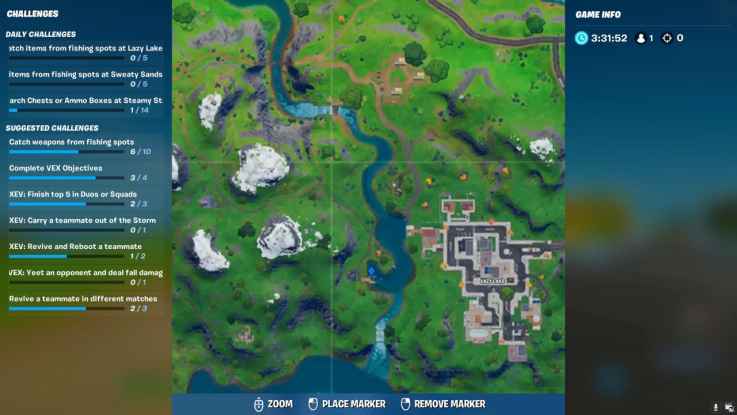 Lazy Lake is a marked location on the Battle Royale map.
Epic Games
This is what the spot looks like.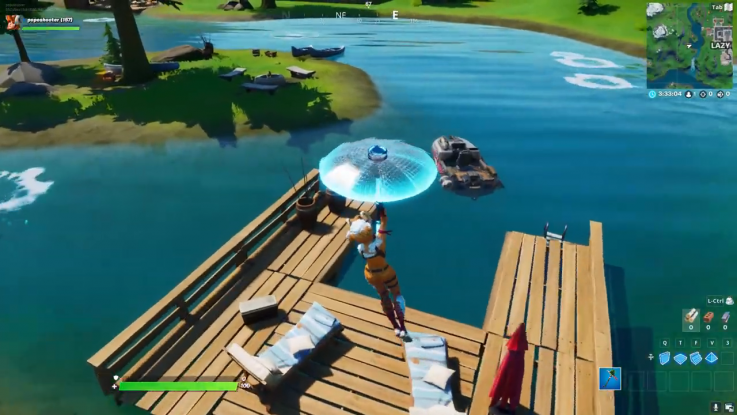 Fish at this spot in Lazy Lake.
Epic Games
Flopper Pond
Last but not least, Flopper Pond is this little body of water between Weeping Woods and Salty Springs.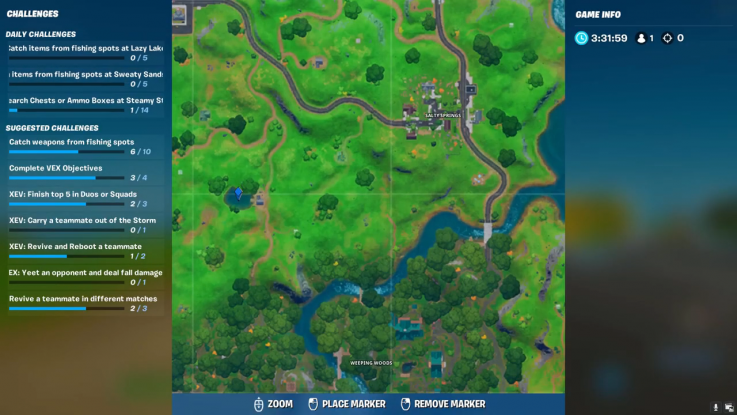 Flopper Pond is north of Weeping Woods.
Epic Games
You'll find a shack and a little barrel to catch your fish.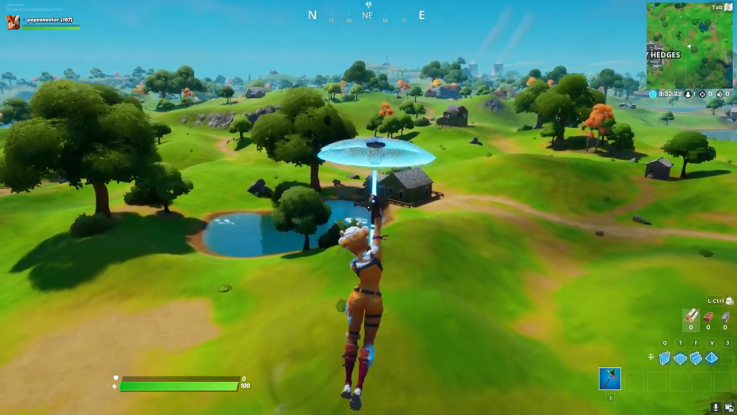 This is what Flopper Pond looks like.
Epic Games
Fortnite Cameo Vs Chic Challenges
Catching a fish at Lake Canoe, Lazy Lake and Flopper Pond is just one challenge in the larger list of Cameo Vs Chick Challenges. Check out the full list below.
Reach Tier 80Complete Cameo Vs Chic Mission Objectives (nine)Catch an item with a Fishing Rod at different locations with No Fishing Signs (three)Consume an Apple, a Mushroom and a Slurpshroom (three)Search a Rare Chest or Supply Llama (five)Eliminations at different named locations (five)Catch a fish at Lake Canoe, Lazy Lake and Flopper Pond (three)Visit a Lonely Recliner, a Radio Station and an Outdoor Movie Theater (three)Get an Elimination with an Assault Rifle, Shotgun and a Sniper Rifle (three)Destroy a Telescope, a Television and a Telephone Pole (three)Search the Hidden Gnome in between a Race Track, a Cabbage Patch and a Farm Sign (one)Dance at the top of Mount H7, Mount F8 and Mount Kay (three)
Complete all these tasks to get a yellow Chic skin style and tons of bonus XP to help tier up your Season 1 Battle Pass.
Fortnite is available now on PS4, Xbox One, Switch, PC and mobile. Challenges are the same across all platforms, which allows challenge progress to carry over between systems.
What are your thoughts on Fortnite's latest batch of Overtime challenges? Were you able to find Canoe Lake and Flopper Pond? Tell us in the comments section!
Related posts