Fortnite Season 4 has stretched on for quite a while, which means fans are ready to find out what happens next. If a newly appeared countdown timer is any indication, it sounds like those big changes might appear a little sooner than some had anticipated. Based on the time currently listed in two prominent places, the Galactus event is expected to begin around December 1 at 4:10 p.m. EST.
The countdown timer first appeared early Saturday morning and is plainly visible to anyone who plays Fortnite. The updated graphic can be seen in the lobby space as players decide which queue to join.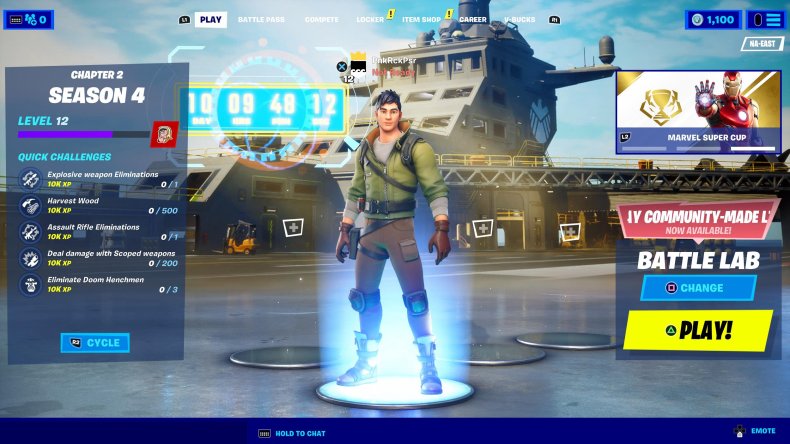 'Fortnite' Season 4's live event is set o begin December 1 at 4:10 p.m. EST. How will Galactus change the Island? 'Fortnite' is available now on PS5, PS4, Xbox Series X|S, Xbox One, Switch, PC and Android.
Epic Games
For additional confirmation, however, the timer can also be seen aboard the Helicarrier before matches as well. Fans have long speculated that a live event would soon arrive to end the Galactus and Nexus War story, but now we know precisely when the action is expected to go down. Dataminers confirmed several weeks ago that an event was in the works, but this timer is Epic's first official indicator that something is indeed on the way,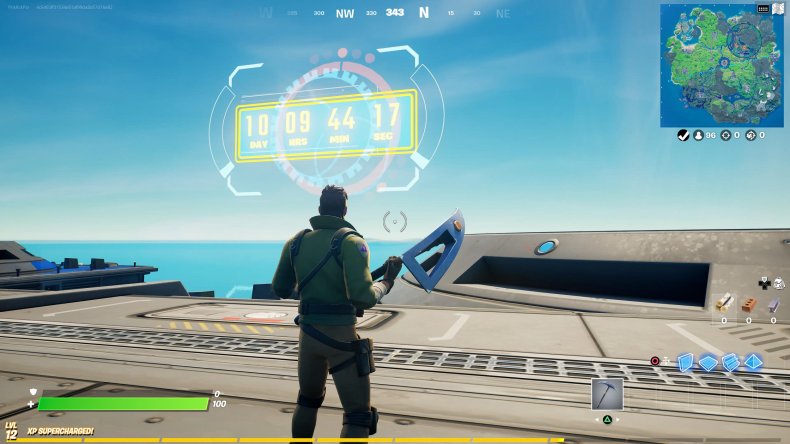 The countdown can also be seen aboard the Helicarrier.
Epic Games
News is pretty light with regard to what we might see during this Galactus event, but there are a few inferences to be made. The story tells us that Galactus has been drawn to the Island and wishes to consume it for its power, so we imagine we'll finally see the villain make an in-game appearance once, or possibly even before, the event begins. However, if our cast of Marvel heroes has its way, Thor, Shehulk and Iron Man won't let the nefarious bad guy pull off his evil plan. In fact, there has been evidence since day one that Tony Stark is hard at work potentially trying to engineer the Sentinel robots to help our heroes win the fight. The stage for the so-called Nexus War has clearly been set, so it's time to see how the feud resolves.
Beyond the plot itself, it's also worth remembering the season we're about to enter. Considering the event is set to take place December 1, one has to assume whatever happens during the proceedings might involve a snowy transformation of the Chapter 2 Battle Royale map. We've seen the Ice King cause his own unique brand of destruction in the past, but might something else happen to trigger a wintry makeover this time? It'd certainly be a perfect setup for a 12 Days of Fortnite holiday celebration shortly thereafter.
Regardless of what actually happens during the Nexus War Galactus event, we just hope more players are able to actually see the event in-game this time. While the Device event was pretty cool to analyze when it happened in May, servers hit capacity so quickly that most folks were forced to watch the action unfold on Twitch instead. Given months to iron out the kinks, it'd be a great improvement if capacities weren't a factor this time.
Fortnite is available now on PS5, PS4, Xbox Series X|S, Xbox One, Switch, PC and Android.
What do you expect to see from Fortnite's Season 4 live event? How will Galactus change the Island? Tell us in the comments section!
Related posts