Fortnite Meowscles Mischief Challenges debut for Week 5, and there are a few location-based tasks that are a little tricky. This guide details the process of visiting Coral Cove, Stack Shack and Crash Site without swimming.
While some of you may know where all three landmarks are located on the Season 2 map, the process of getting to these water-locked areas without swimming can be a bit of a chore. There are essentially two ways to do this. Undoubtedly the easiest method is to secure a Choppa and hover above each area. If you'd like to know how to get a Choppa, use our Choppa location guide. Alternately, there's often a Motorboat lying around the docks near Coral Cove. With that in mind, you have a chance to drive to the other two destinations in that vehicle as well.
Coral Cove, Stack Shack and Crash Site Locations
Remember that in order to complete this Week 5 Challenge you must visit all three of these landmarks in a single match. Approach using a land or air vehicle, and you should have no problem getting credit for the deed.
Coral Cove
This sizable island southwest of the Shark.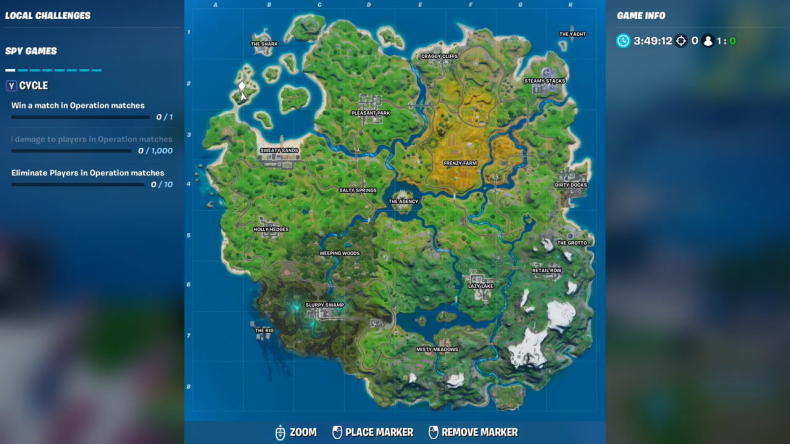 'Fortnite' Week 5 Challenges ask players to visit Coral Cove, Stack Shack and Crash Site. See all three locations below. 'Fortnite' is available on PS4, Xbox One, Switch, PC and mobile.
Epic Games
Stack Shack
A tiny island southwest of Sweaty Sands.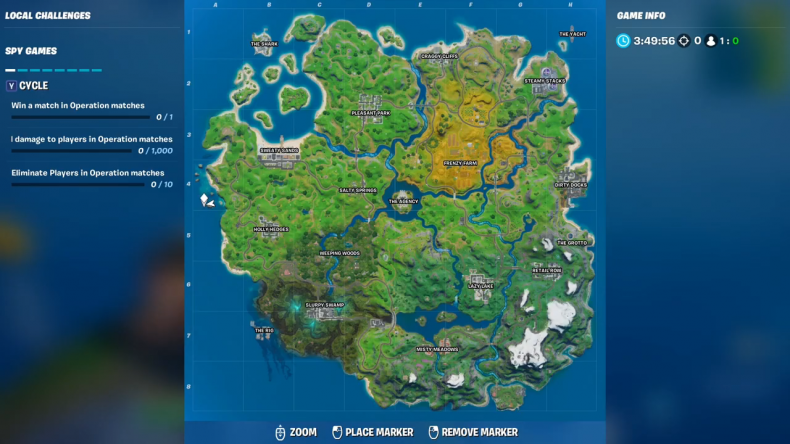 You'll find Stack Shack on this little island to the west.
Epic Games
Crash Site
North of Sweaty Sands.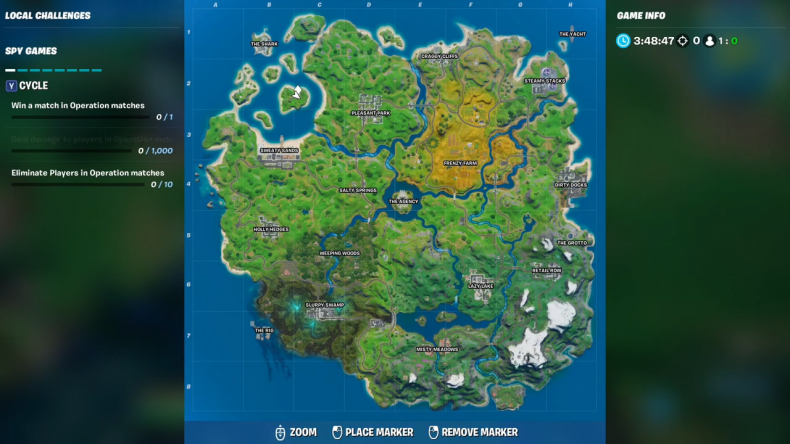 The Crash Site is southeast of the Shark.
Epic Games
All three locations are pretty close together, so just grab whatever vehicle you can find and go for a little joyride. Do that, and this Meowscles Mischief Challenge is done.
Fortnite Meowscles Mischief Challenges
The task of visiting Coral Cove, Stack Shack and Crash site without swimming is just one of several Meowscles Mischief Challenges for Week 5. Here's the full list of objectives in case you missed it.
Search chests at Misty Meadows or Salty Springs (three)Eliminate players with Assault Rifles from at least 50 meters (five)Consume fish to gain health or shields (400)Deal damage to players while using creeping cardboard (200)Survive a fall from at least five stories high (nine)Deal damage to henchmen with pickaxes (100)Visit Coral Cove, Stack Shack and Crash Site in one match without swimming in a single matchKick a soccer ball 100 meters (100)Deal Damage to players with miniguns (400)Visit Shipwreck Cove, Yacht and Flopper Pond
That's all there is to know about visiting Coral Cove, Stack Shack and Crash Site without swimming in Fortnite.
What are your thoughts on the Meowscles Mischief Challenges? Were you able to visit all three locations without swimming? Tell us in the comments section!
Related posts