There's a week left of Season 10 and we're yet to get the live rocket launch event. Here's what we know so far including when the live event will likely take place, the name of the event and more.
Fortnite season 10 is expected to end on Sunday, 6th October. We're still yet to experience a live event this season, but it's all but confirmed that we'll be getting it before the season ends. Here's everything we know so far regarding the Season 10 live event. It goes without saying that there's some spoilers ahead.
When will the Fortnite Season 10 Live Rocket Launch Event Happen? Time, date and countdown timer
There's no official or datamined information as to when the season 10 live event will happen. We do know that Season 10 is expected to end on Sunday, October 6th and any event will have to take place prior to the season ending.
Previous live events have taken place on a Saturday, so it's extremely likely the event will happen on Saturday, October 5th. Events in the past have started at 2pm ET/7pm BST, so expect to see the event happen at this time.
According to leaks, there'll be a countdown timer appearing above the rocket at Dusty Depot and all the TVs in-game. We'll have to wait and see when the countdown will appear as some dataminers believed that the countdown would start today at 2pm ET.
What will happen during the event? (leaks)
Content continues below ad
A rocket has been built by The Visitor at Dusty Depot, so we'll see that launch during the event. Dataminers have leaked some information from the v10.40 Fortnite update regarding what will happen during the event.
According to dataminers Krispy Leaks, there will be a launch warning during the event, the rocket will launch and players will be unable to move. Dataminer Asriel_Dev has stated that players will be under the influence of a modified item and the name of the item/gadget is "Shadow Stone".
Players, trees, and tomatoes will be sucked into the Zero Point at Loot Lake and an encrypted umap will appear which will be used for the cinematic. Popular dataminer Hypex has leaked some of the event sounds which you can listen to below:
ContainsSpoilers
FEW EVENT SOUNDS! pic.twitter.com/FLkszZBYVl
— HYPEX – Fortnite Leaks & News (@HYPEX) September 25, 2019
Here's some more leaked event files from FortTory including the alarm/light of the rocket and the leaked particle for the rocket:
Leaked particle of the Alarm/Light of the Rocket!
ContainsSpoilers pic.twitter.com/MLkGDDtAgc
— FortTory – Fortnite Leaks & News (@FortTory) September 25, 2019
leaked particle for the Rocket!
….Vent_Smoke…
"ContainsSpoilers" pic.twitter.com/zfHWxzeccH
— FortTory – Fortnite Leaks & News (@FortTory) September 25, 2019
Here's some more sound files for the event:
Sounds for a NightNight device, NightNight has references to the upcoming event…
"ContainsSpoilers" pic.twitter.com/at62oEmrFZ
— FortTory – Fortnite Leaks & News (@FortTory) September 25, 2019
Launch Warning sounds!
"ContainsSpoilers" pic.twitter.com/YVb7uAsnY8
— FortTory – Fortnite Leaks & News (@FortTory) September 25, 2019
Tape Sounds
Keep in mind that there are actuall recording of someone talking, they are unfortunately encrypted
"ContaintsSpoilers" pic.twitter.com/DVJkT4DJvo
— FortTory – Fortnite Leaks & News (@FortTory) September 25, 2019
There will be a ten minute warning and a one minute warning before the event starts. Players won't be able to shoot at one another two minutes before the event.
Visitor Recordings/Tapes
For the Season 10 Overtime challenges which will be called "out of time", players will need to collect Visitor recordings at different locations of the map. Dataminers have stated that these recordings will be played in the event. Here's the leaked transcript thanks to ShiinaBR and Asriel_Dev: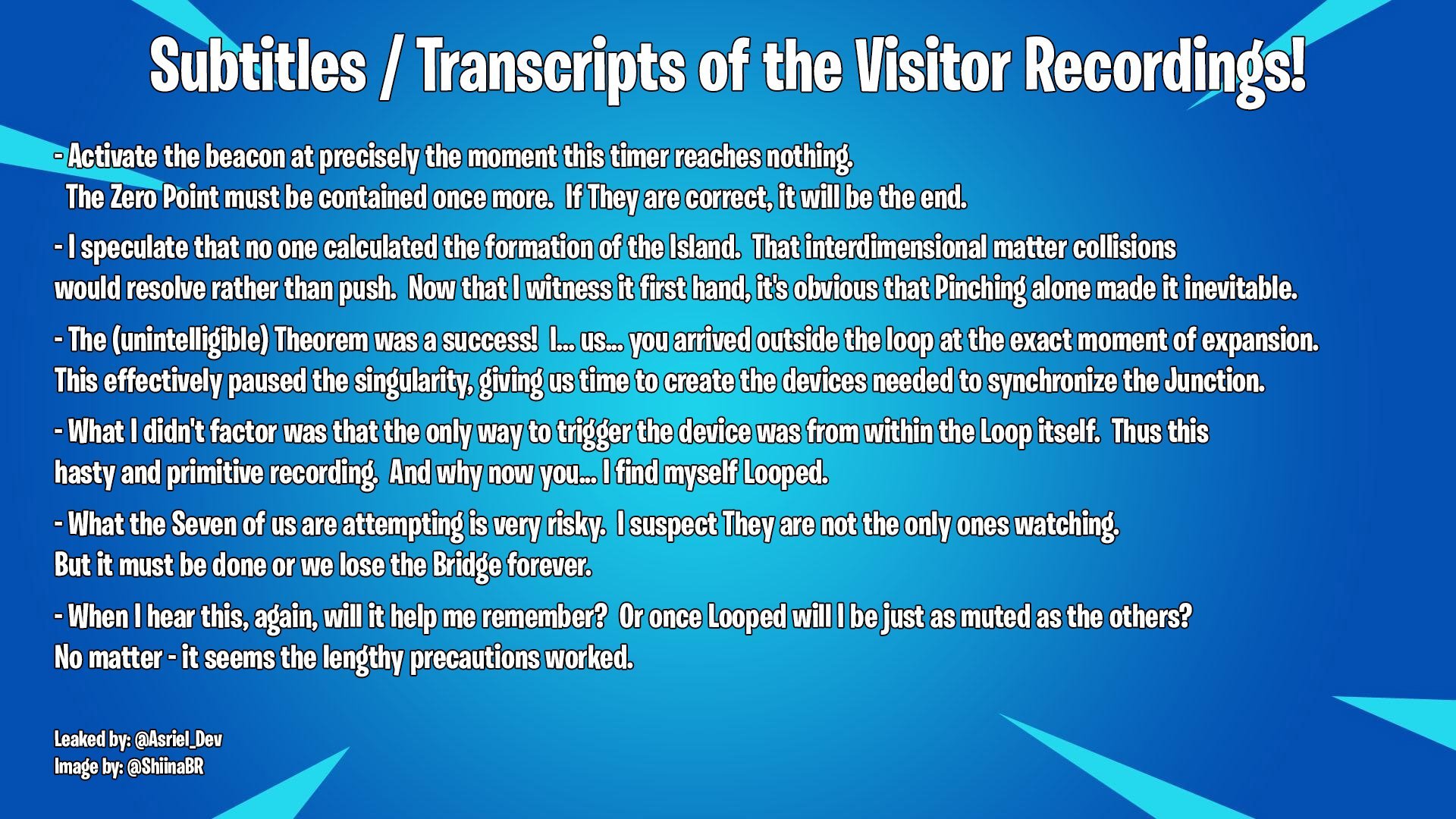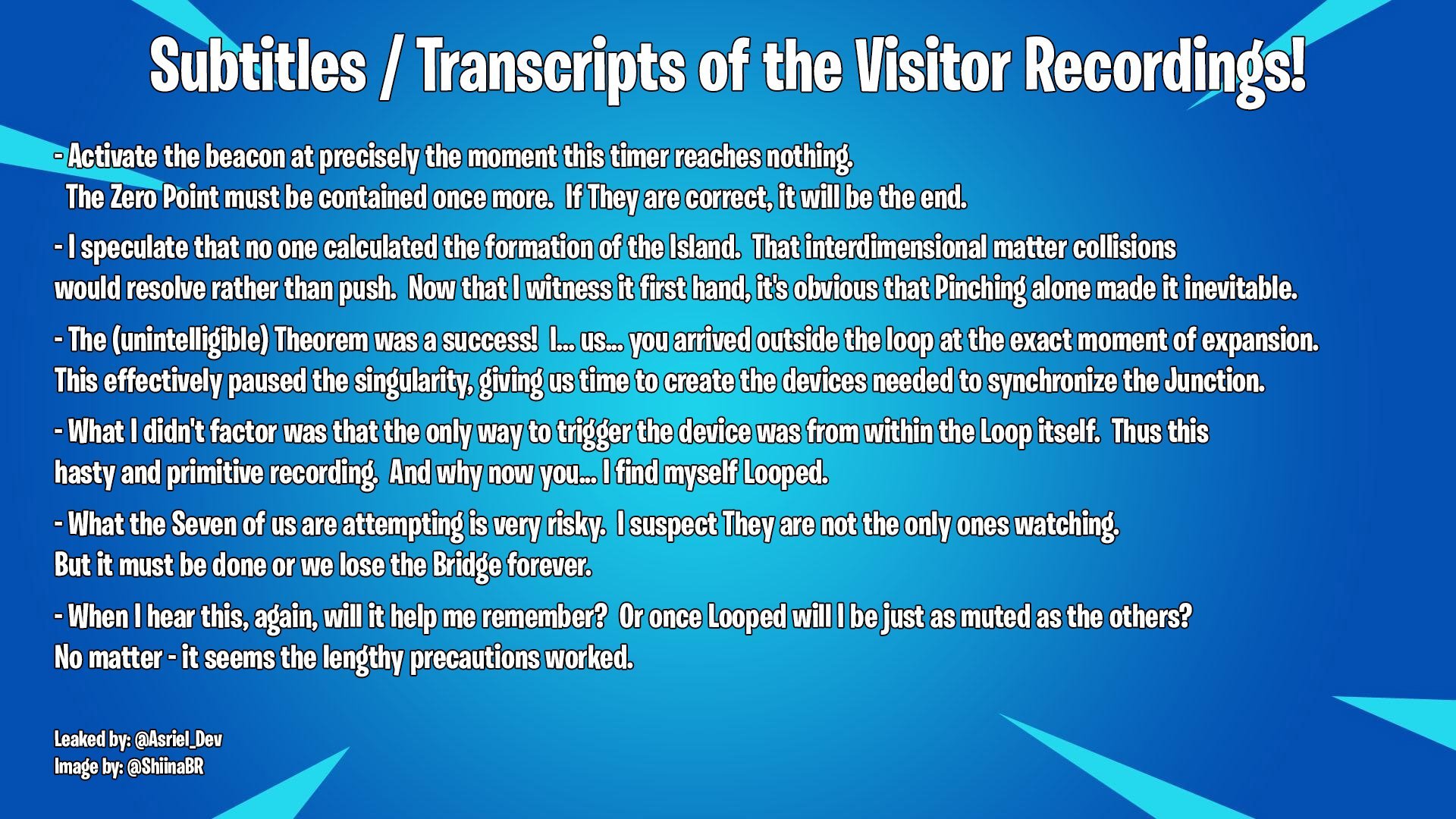 Fortnite Event Transcript
The End LTM/Playlist
Several dataminers leaked what the Season 10 rocket launch event would be called in-game. The LTM will be called "The End" and according to the information leaked, players will not be able to kill one another. Dataminers also posted the rocket event loading screen event which you can check out below:
Fortnite Leaked The End LTM Rocket Launch Live Event Loading Screen
New Fortnite Map?
The week 10 limited time mission loading screen was also leaked, which shows the Battle Bus leaving the island whilst being waved off by some skins including Drift. There's a chance that this could be a hint at a new map for Season 11, but we won't know until the event takes place.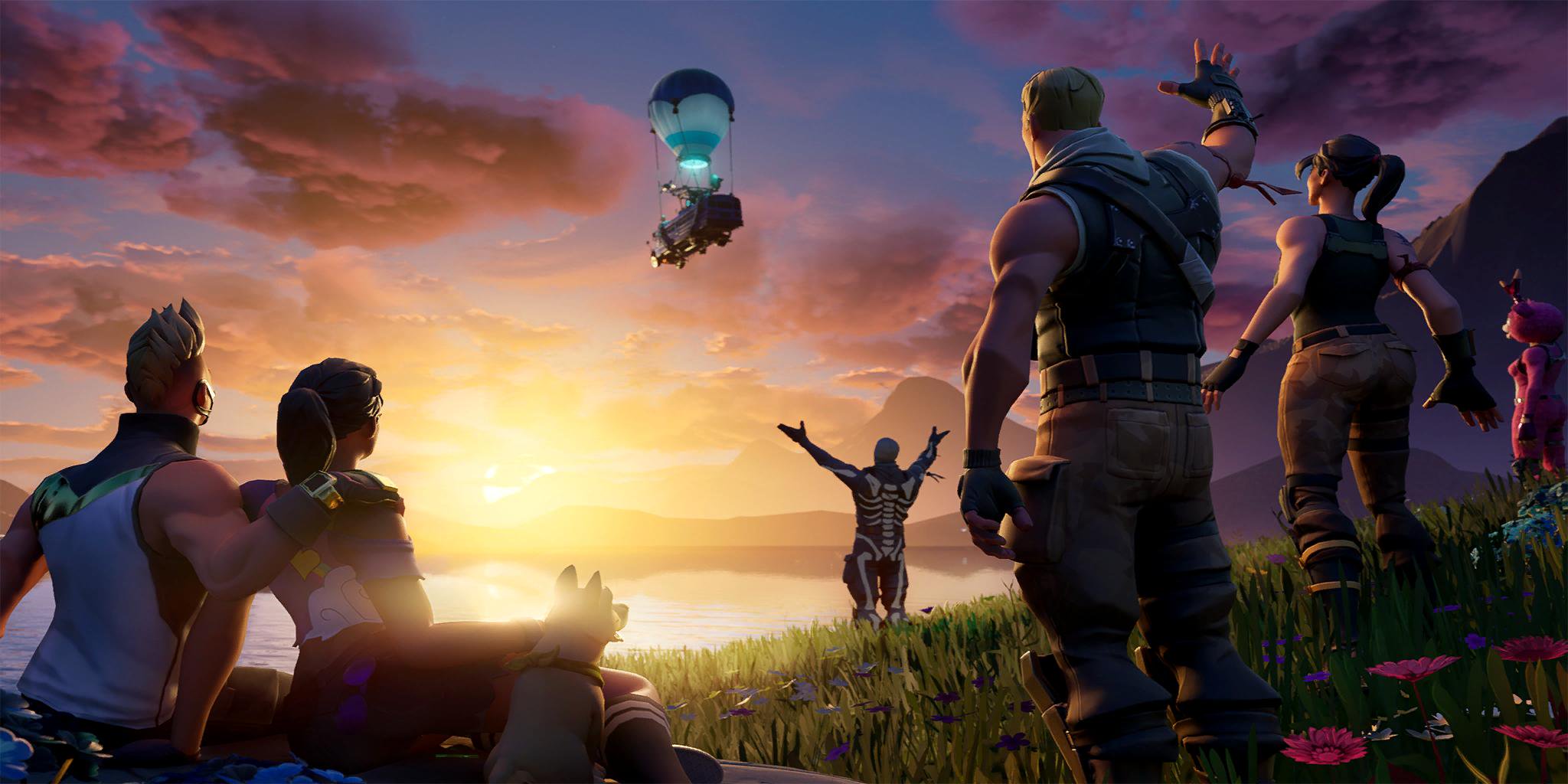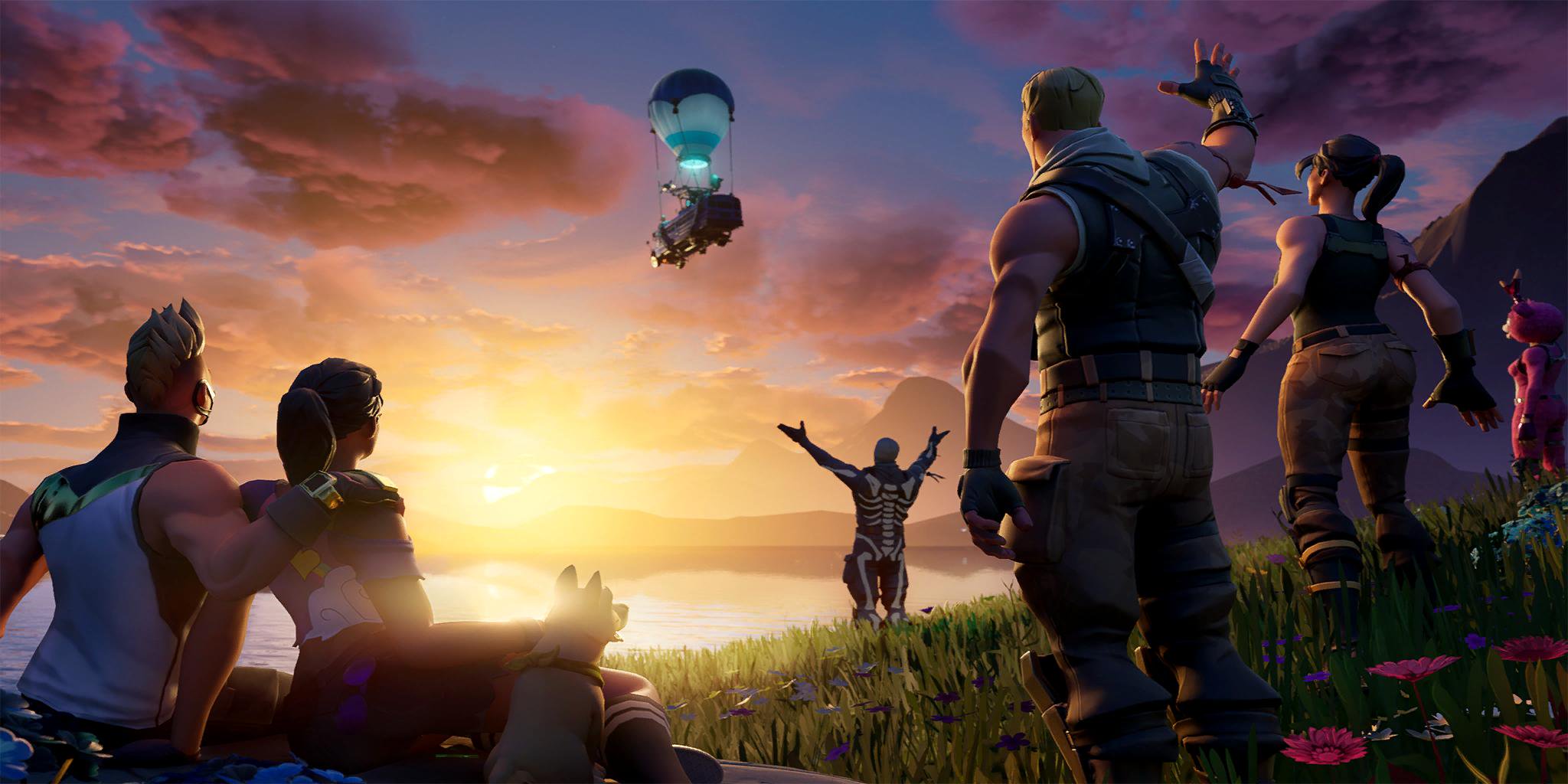 Fortnite Season 10 Week 10 Leaked The End Loading Screen
As always, we'll keep you updated with the latest Fortnite news including when the countdown for the season 10 event begins.
Related posts